Well secured and always ready to reach – All information about the Wallet
Bitcoin is a purely digital currency and therefore cannot be physically passed on like a coin or banknote. The exchange of Bitcoins and all other cryptocurrencies is exclusively digital and takes place within the blockchain network. To store your Bitcoins or other cryptocurrencies such as Litecoin or Ether, you must set up a so-called wallet. This is a digital wallet, that is used for storing, sending and receiving cryptocurrencies.
Wallets are highly secured programs that allow easy transaction and management of your cryptocurrencies.
It is important for you to know, that the wallets can only hold specific cryptocurrencies. So think of your wallet as a physical purse with a separate compartment for each currency. Accordingly, a Bitcoin Wallet, an Ethereum Wallet and other digital wallets will be created for you, when you create an account with Coinygram.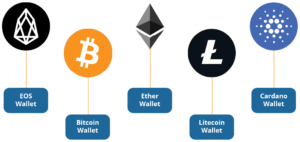 If you put the currency in the wrong compartment, you may lose the coins you have transferred.
Optionally you can also use hardware wallets. These are small physical data storage devices that look like an USB stick. There you can safely store a variety of different cryptocurrencies. The advantage: Hackers have no chance of getting hold of your digital assets. In addition, you can restore the cryptocurrencies deposited on your wallet at any time by means of a "seed phrase", should you ever lose or defect your hardware wallet. The Seed Phrase is a kind of password that identifies you as the owner of the cryptocurrencies stored on the wallet.