Entertaining examples of the value enhancement potential of Bitcoin
The inner core of the crypto scene has its very own humour – and thus shapes definitions for the entire industry.  On December 18, 2013, a frustrated user named "GameKyuubi" addressed the community in a blog post and expressed his displeasure about a crash in the Bitcoin market value. While writing his text he was drunk, just came out of a bar with his girlfriend and promised to HODL his Bitcoins. The spelling mistake as well as the entertaining text made a big splash and to this day it has defined the term for holding cryptocurrencies even when the exchange rate fluctuates strongly. A glance at the Bitcoin exchange rate quickly makes it clear: This was a more than wise decision, because exactly 6 years later the Bitcoins held by him have increased by about 1,398 %.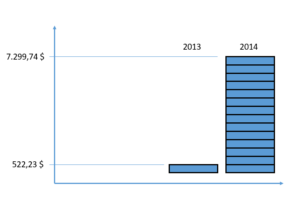 Bitcoin rate (Dollar) 18.12.2013:           522,23 $
Bitcoin rate (Dollar) 18.12.2019:        7.299,74 $
Laszlo Hanyec was less lucky, who exchanged a total of 10,000 Bitcoins for two pizzas on May 22, 2010, thus making the first official payment for the Bitcoin. It is precisely for this reason that May 22 is celebrated annually as Bitcoin Pizza Day. Laszlo will probably curse this day. According to the market value on December 18, 2019, he paid no less than $72,997,400 for the two pizzas. A "HODL" even if the Bitcoin price is very volatile, can be worth it!